By the pricking of our thumbs, something tasty this way comes.
Fall is in the air and Halloween is nearly here. If you've taken a trip to your nearest department store or pet shop, you've likely come across rows of spectacularly spooky goodies available for your dog. There are so many to choose from - but what tantalizing treat is the best? Grab your pup's costume and treat bag and pull up a seat, as some very hungry Figo office dogs so generously volunteered their time to give them a try. It's Figo's first taste test - let's dig in!
The Judges

First, we have Ripley, Bullboxer mix and loyal companion to Megan, Figo's Competitive Analyst. Ripley is seven years old and was a foster failure from The Anti-Cruelty Society. She can be a little picky, but her favorite snack has got to be Trader Joe's Dog Beef Jerky Sticks. Her refined pallet will be difficult to impress - we can't wait to hear her reviews. Oh, and she's the one in the hot dog costume.
She's just too sweet - our second judge is the one and only Honey. She's five years old and was adopted from One Tail at a Time by Bridgett, Figo's Director of Marketing & Communications. Now she spends her days lounging in her favorite bed and getting belly pets. Honey loves to indulge in pig's ears and bully sticks, but according to her mom, will truly eat anything. We'll see if she's equally hyped about her Halloween haul.
Finally, representing the little guys, it's nah-nah-nah-nah BATMAN. Standing at 12 inches tall and 11 pounds, this nearly one-year-old Chihuahua/Yorkie/Russell mix was rescued from Tiny N Tall Rescue. He may be small, but he is mighty, and his determination to conquer these treats knows no bounds.
Greenies "ScaryBerry" Dental Bones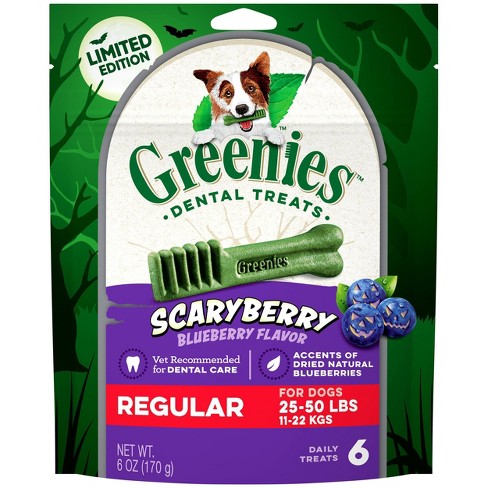 These treats have a strong blueberry smell but otherwise are the size and shape of a standard Greenie. They're soft - a little firmer than Tootsie Roll consistency - and can be broken into smaller pieces to help control plaque and tartar in dogs. A tasty way to keep your pup's teeth pearly white.
Ripley: 3 out of 5 bones

Did eat, but was meh about it. Ripley found the berry flavor to be strong, but not strong enough to distract from the health benefits. For a dental treat, she thinks it's fairly tasty.
Honey: 5 out of 5 bones

When asked, Honey told us, "Greenies ScaryBerry Dental Bones are my favorite treat."
Batman: 4 out of 5 bones

These Greenies say petite, yet they were much too chunky for Batman's tiny jaws. He enjoyed hints of artificially harvested blackberry complemented by blueberry. Not too sweet, not too savory.
Average Score: 4 out of 5 bones

Thrills & Chills Spooky Sammies Macaroons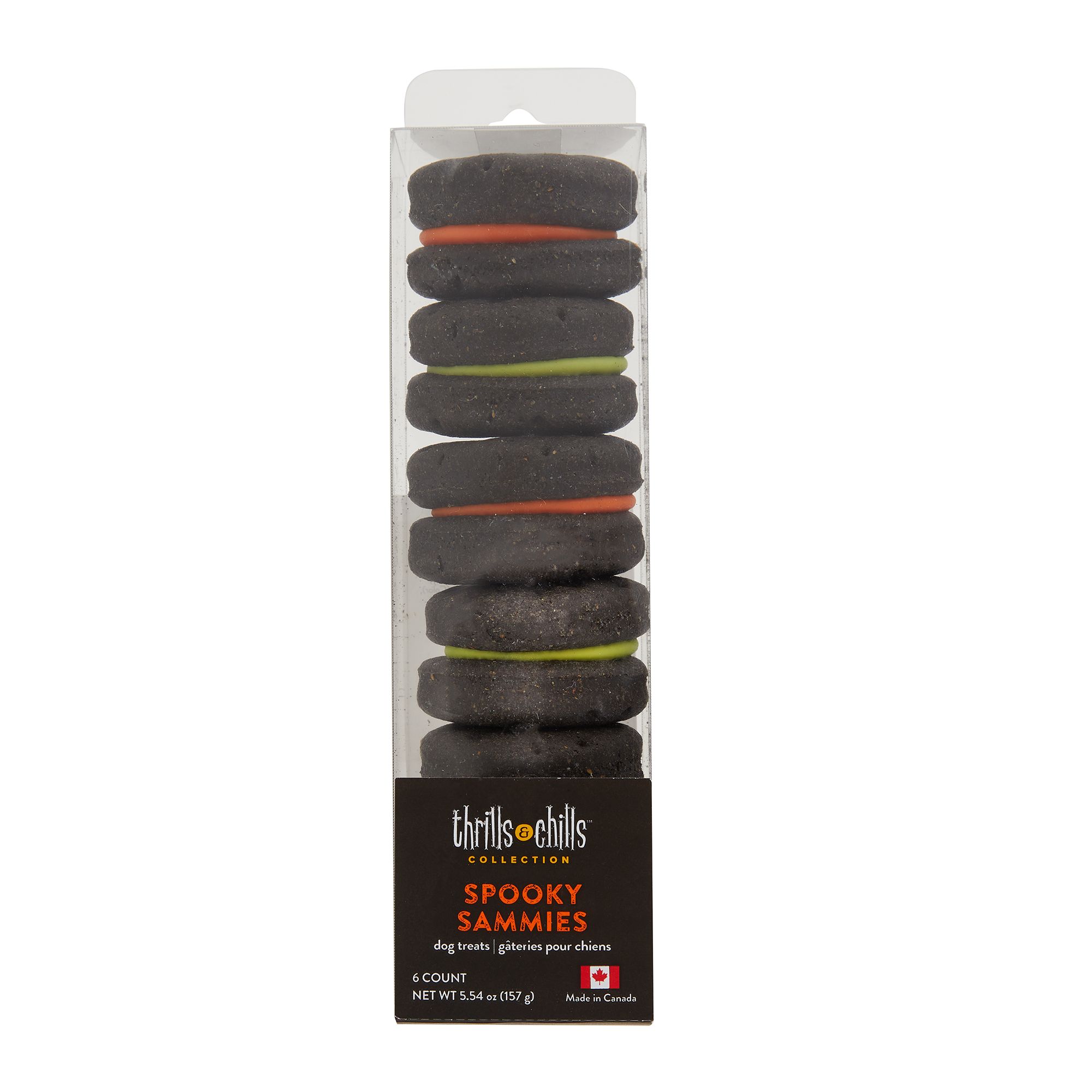 These cookie sandwiches look similar to one of America's favorite cookies at first glance but contain a colorful frosting that makes them a little ~spooky~. The cookies themselves are quite thick and may need to be broken into smaller pieces for little dogs.
Ripley: 1 out of 5 bones

One bite and Ripley says no thanks, do not want. She might eat them out of obligation, but the cookie was too thick, and she did not like frosting. 
Honey: 5 out of 5 bones

Honey took a chomp and said, "actually, Thrills & Chills Spooky Sammies Macaroons are my favorite treat."
Batman: 4 out of 5 bones

Considering these macaroons are bigger than Batman's jaw, he found the flavor to be quite impressive. Would have liked a bit more frosting between the cookie sandwiches, sure, but as he's trying to maintain his boyish figure, maybe it's for the best.
Average Score: 3 out of 5 bones

Blue Buffalo Boo Bits Soft Moist Treats

M&M's, but make them dog treats. These bite-sized bits are perfect training treats for the Halloween season. As their name implies, they are moist and easy to chew, so dogs of any size can enjoy them.
Ripley: 5 out of 5 bones

Ripley liked these, a lot. Snack-sized and perfect for her underbite. Moist. She took one and begged for another.
Honey: 5 out of 5 bones

"Ok actually, Boo Bits are my favorite treat", Honey
Batman: 4 out of 5 bones

Finally, a treat that can fully fit in Batman's mouth! The chicken flavor is solid throughout, though he would love to taste more nuance in each bite.
Average Score: 5 out of 5 bones

Milk-Bone Beef Halloween Spooky Dog Treats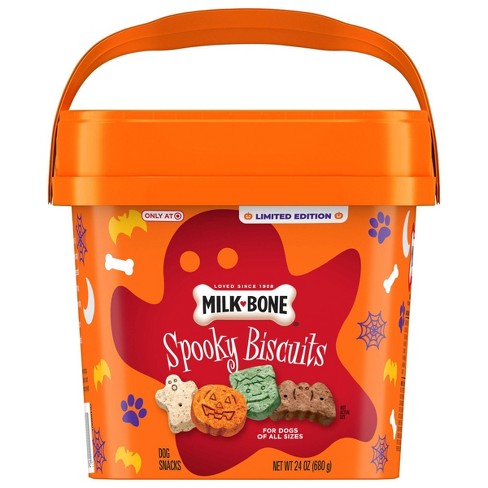 These Milk-Bone biscuits can be compared to any standard Halloween candy bar: they're well-liked, maybe a bit cliche, but tasty nonetheless. They're easy to snap into bite-sized pieces and come in a variety of scary shapes.
Ripley: 4 out of 5 bones

Ripley's first bite was good. She even asked for another. Bye-bye, Milk-Bone Frankenstein, Ripley's eating them all.
Honey: 5 out of 5 bones

"Did I say Boo Bits were my favorite treat? My mistake. I meant to say Milk-Bones", said Honey, as she devoured several.
Batman: 3 out of 5 bones

Batman thought these treats were a bit dry on his pallet. Somewhat hard to chew and a little too crumbly. He did his best to finish his off, but likely won't be going back for thirds.
Average Score: 4 out of 5 bones

Thrills & Chills™ Pumpkin Cookies Dog Treat

We have a confirmed Great Pumpkin sighting in the Figo office. These treats smell just like your favorite pumpkin spice latte and I can't deny that even our human coworkers were tempted to take a bite.
Ripley: 0 out of 5 bones

Oh look, a dog treat smothered in frosting. That is not the vibe for this pup. Ripley turned up her nose at these completely, but hey - you can't please everyone.
Honey: 5 out of 5 bones

Forget what Honey said before - these pumpkin cookies were her favorite. Is there a treat this dog won't love!?
Batman: 4 out of 5 bones

The little Batman that could! Despite the obvious size and thickness of these treats, Batman did his best to chow down on the whole thing. We can't say we're not impressed.
Average Score: 3 out of 5 bones

You can watch our full taste test in the video below. And don't forget to get a quote for pet insurance in case of a Halloween emergency!
---
Lizz Caputo is a Content Strategist at Figo, animal enthusiast, and owner of a rescued senior American Bully. Her hobbies include checking out new restaurants in her area, boxing, and petting dogs of all shapes and sizes.